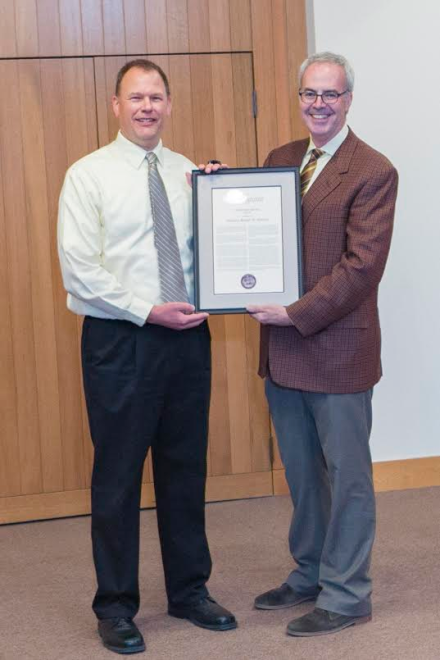 Catholic higher education depends more than ever on the energy and vision of lay faculty who find imaginative, compelling ways to engage Catholic intellectual and spiritual traditions in the classroom and in their scholarship. Collegium, a consortium of 65 Catholic colleges and universities, was founded to encourage faculty in such creative endeavors.
The Collegium Visionary Award is an opportunity to recognize outstanding contributions by Collegium alumni/ae to enhance that mission on their own campuses, in their disciplines, and in other national conversations. In his scholarship, teaching, mentorship, and leadership in faculty development, Professor Rodger Narloch, the 2016 awardee has realized the promise of Collegium in creative and exciting ways.
Rodger first participated in Collegium as a faculty fellow in 2004. When our much beloved, longtime board member, Sr. Eva Hooker, C.S.C. finished her term on the board a year later, she made a powerful case for electing Rodger to the board to fill her shoes. Since then, Rodger has brought a different, but very powerful set of skills and perspectives to Collegium's work, and was reelected so many times that his board service is tied with Sr. Eva's for longest in our history. He served twice as board chair, twice as vice-chair, and seven times in the very important role of mentor at Collegium.
As a board member Rodger was always straightforward, thoughtful and eager to move our work forward in creative and sustainable ways. Evaluations of him as a mentor repeatedly describe him as "kind," "respectful," "warm," "open," "knowledgeable," "welcoming," "sincere," "a very good listener." As one participant summarized it, "He clearly loves this part of his life very much." Another reported, "Rodger knew how to lead. Our discussions stayed on point and he was very effective at elevating our conversations to a higher level."
Rodger is proud of his Johnnie heritage, and eager to see the College of Saint Benedict – Saint John's University excel. He has found intriguing ways to tie his scholarly interest in developmental psychology, psychology of emerging adulthood, and happiness to questions of spiritual development and human flourishing. He has shown a remarkable commitment to student advising and mentoring, for which he was recognized with the Advising Award for Social Science and the Robert L. Spaeth Teacher of Distinction Award. His mentorship has resulted in 18 student presentations at national psychology conferences and two peer-reviewed articles co-authored by his students.
He served as department chair for nine years, and has offered himself generously as member of a dozen committees related to Catholic and Benedictine mission, including his current role as co-chair of Strategic Directions 2020: Enhancing Student and Faculty Understanding of the Catholic and Benedictine Traditions.
In the last two years, Rodger has taken intriguing steps to help department chairs and psychology faculty throughout the country think about ways that mission can enhance their work. A recent article, "Cultivating Sacramentality through Administrative Work: Guidance from St. Benedict on Being a Department Chair" summarizes many of the values that he holds dear: respect for the variety of religious views of his colleagues, a desire to be welcoming to all as if they were Christ, a desire to listen before judging. He speaks profoundly about authenticity and avoidance of over-compartmentalization of disciplines and beliefs. A forum organized with fellow Collegium alumna Marianne Lloyd at the National Institute on the Teaching of Psychology looked at how faculty at religiously affiliated colleges could integrate religious questions in a fashion that respects the range of value commitments that students bring, and works in an integral way with the discipline of psychology.In recognition of all these achievements, and confident of more to come, Collegium is very pleased to present the 2016 Visionary Award to Professor Rodger Narloch.
Read the announcement from the College of Saint Benedict – Saint John's University.