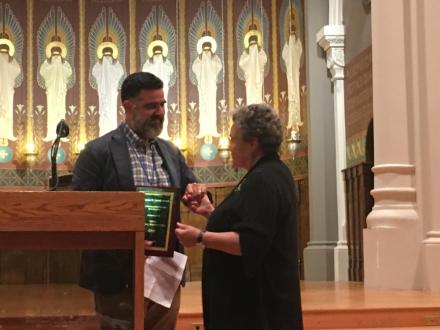 At the closing banquet for Collegium 2019, in the Great Hall on the campus she called home for many years, Esteban del Rio, Collegium's Board Chair, awarded Sr. Eva Hooker, C.S.C. the 2019 Landy Award. The award, established by the Collegium Board in 2018, recognizes people who have contributed significantly to shaping Collegium over the years.
Sr. Eva's contributions to Collegium are remarkable. She has been involved with our work almost since the beginning, and it was her poet's sensibilities that gave Collegium its name, saving it from the clunky iterations that I was pondering for it. She served nine years as a board member, and seventeen years as a mentor, and is counted by many as a "mentor to the mentors."
Sr. Eva is writer-in-residence at Saint Mary's College, Notre Dame, Indiana. Prior to her return to St. Mary's and to the C.S.C community that she belongs to there, Saint John's University, Collegeville, Minnesota, was long her home. She had a remarkable impact over the nine years that she served as Vice President for Academic Affairs there, and also in her role as professor of English. It was felicitous that St. John's could be the venue for the award. We were happy that she could be present for many of the Collegium talks, and that she had the opportunity to visit old friends there.
Eva is a poet who also has a special interest in women's studies, and has taught Shakespeare and poetry writing at Saint John's University. She still holds the title Regent's Professor of Poetry at Saint John's University. Her poetry has been published many places, including two collections, The Winter Keeper (Chapiteau Press, 2001), a finalist for the Minnesota Book Award in poetry, and Godwit (A Taos Press, 2016). Collegium alums who did not have the benefit of having Eva as a mentor will still remember the poetry readings that she led at summer colloquies for years. She also read an extended poem at Collegium's 20th anniversary celebration.
Following the award, Sr. Eva read a recent poem she wrote, "The Analogy of the Bee and the Pulley," inspired by an image in the Saint John's Bible, and distributed signed copies to Collegium participants.
Sr. Eva has been a marvelous companion and source of wisdom for me over the years, and is due no small measure of credit for shaping Collegium into what it is. I'm grateful and honored that the Collegium Board saw fit to recognize this.