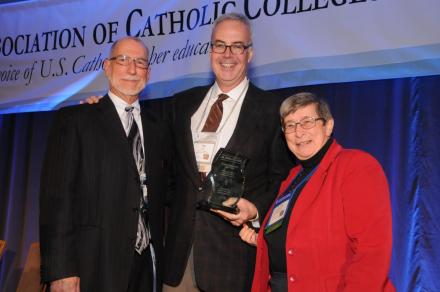 Thomas M. Landy, Ph.D., director and founder of Collegium, received the Association of Catholic Colleges and Universities (ACCU) Presidents' Distinguished Service Award for personal service of exceptional quality to Catholic higher education. Tom is director of the Rev. Michael C. McFarland, S.J., Center for Religion, Ethics and Culture at the College of the Holy Cross and a lecturer in the Department of Sociology and Anthropology at Holy Cross. He founded and leads research for Catholics & Cultures, a web-based initiative to explore the religious lives and practices of lay Catholics in their particular cultural contexts around the world.
Click on the group picture to watch a video highlighting Tom's contributions to Catholic higher education.
Margaret N. Freije, vice president for academic affairs and dean of the College of the Holy Cross, noted that, "The great value that Tom brings to this campus is that he is intellectually curious about a wide variety of things. He can engage faculty from different disciplines in conversations with him and then with one another, facilitating interdisciplinary conversations about questions related to the Catholic Intellectual Tradition, related to social justice, related to our commitment to mission, and related to our Jesuit heritage."
The award was given at the opening of the ACCU's Annual Conference, January 28, 2017 in Washington, D.C.