In the last quarter century, many Catholic colleges and universities have given renewed attention to thinking about how to educate students in a manner that lives up to the best of the Catholic intellectual tradition and engages with a wide variety of ways of knowing and thinking.
Collegium was founded in 1992 to help faculty at Catholic colleges and universities better understand the mission of Catholic higher education, and to invite and help prepare them to become leaders in advancing that mission in creative ways.
Collegium is best known for its annual week long summer colloquy on faith and intellectual life, where faculty of all religious backgrounds and disciplines can learn about the legacy and priorities of Catholic higher education, think about their own vocation as teachers and scholars, and discern how their commitments and talents can enhance the mission of their institution. Nearly 2,000 faculty have participated in these colloquies over the last 27 years. Keynote talks, intensive small group discussions and opportunities for reflection and prayer are interwoven in ways that leave participants feeling intellectually invigorated, with a renewed sense of purpose.
Throughout the year, Collegium extends its mission through publications, talks, small grant opportunities and other means of support.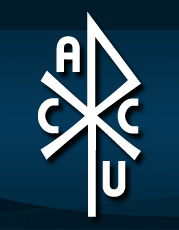 Collegium serves faculty from member Catholic colleges and universities in the United States and Canada. These institutions articulate Catholic mission in a variety of ways, cognizant of particular student bodies they serve, different charisms of their founding orders, different institutional resources, and different priorities about the most urgent needs of today. Collegium helps faculty from such a variety of institutions think about how to contribute to a vital and living mission that takes all of these factors — and the particular gifts of their faculty — into account.
Since 2002 Collegium has been sponsored by the Association of Catholic Colleges and Universities. The ACCU, founded in 1899, serves as the collective voice of U.S. Catholic higher education. Through programs and services, the Association strengthens and promotes the Catholic identity and mission of its member institutions so that all associated with Catholic higher education can contribute to the greater good of the world and the Church.
Collegium's offices and ongoing operations are located at the University of Portland, which generously provides in-kind support that makes our work possible.