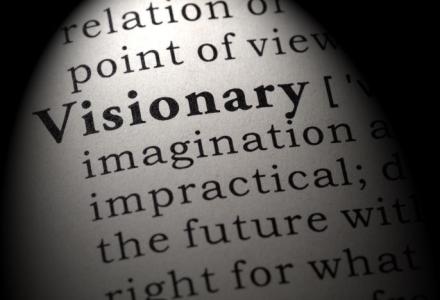 The 2023 Visionary Award has been awarded to Peter Alonzi, Professor Emeritus, Economics, and will be presented at Dominican University in September 2023.
The Collegium Visionary Award is given annually to a nominated alum of the summer colloquy from any year. The Visionary Award is meant to celebrate and illuminate the work of Collegium alums in the many ways that Collegium encourages – leadership to promote Catholic mission on member campuses, scholarship to advance the Catholic intellectual tradition or to bring other traditions into fruitful dialogue with it, and innovative teaching to bring aspects of the summer colloquy to life for students. Award recipients receive a framed citation to be presented at a reception on the awardee's home campus and $1000 that can be used for a mission-related pursuit of the awardee's choosing. Collegium contributes a majority of the funds for the campus celebration.
Who And How To Nominate
Who on your campus has done a stellar job of advancing the aspirations of Collegium there? Who is promoting the Catholic mission via innovative teaching and/or service? Who has engaged in scholarship that advances the Catholic intellectual Tradition, or brings other traditions or disciplines into fruitful dialogue with it? Who is walking the inspirational talk of Catholic social teaching? Turn your answer to any of these questions into a brief Visionary Award nomination.