2022-23 Project Updates
August 4, 2023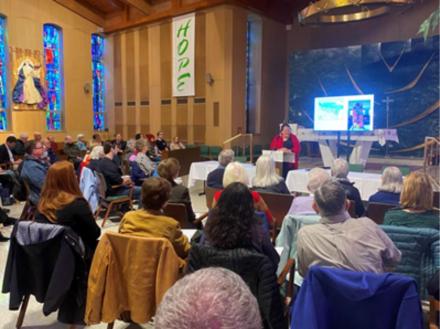 The approaching September 15 deadline for submitting Catalyst Grant proposals makes this a good time to highlight the impacts of some of the Catalyst projects funded in the most recent round. One aspiration of this grant program is to generate practices and products that are portable to many member schools, imitation being one of the sincerest forms of flattery. Three of the four funded projects concluded this summer; highlights and resources are noted below.
"Seminar on Catholic Higher Education and Catholic Social Thought"
Jennifer Reed-Bouley (College of Saint Mary-Omaha), Bernard Prusak (Kings College for this project), and Catherine Punsalan-Manlimos (Seattle University) hosted a 4-day inter-institutional gathering at Seattle University, in which participants took a deep dive into the grantees' edited volume Catholic Higher Education and Catholic Social Thought (Paulist, 2023) to explore concrete ways that CST supports the work of diversity, equity, inclusion and belonging. Articulating specific considerations for just institutional decision-making and identifying challenges and opportunities for doing so were among the most valuable takeaways for those gathered. Another outcome was the development of the website cheandcst.com about the book and consulting services Reed-Bouley and Prusak now offer Catholic institutions.
"Enduring Legacy, Future Vision: Celebrating Pope Francis' 10th Anniversary"
More than 100 college students, faculty, women religious, clergy and members of the general public joined the Dominican Sisters of Hope at the Center at Mariandale in a day of plenary talks by high-profile speakers and frank, difficult and hope-filled conversations, and invigorating inter-generational learning and goal-setting. Multiple Collegium schools were among the collaborators in this project spearheaded by Elena Procario-Foley. Via Zoom, Fr. James Martin SJ addressed the group; Nancy Pineda-Madrid provided another compelling plenary as attendees pondered degradation of Earth, LGBTQ+oppression, violence to girls and women, and the glacial pace of necessary changes in the Church. Full accounts of this transformational day can be found on the Dominican Sisters of Peace website.
"Jesuit, Catholic Education in an Age of AI"
Organizer Lynne C. Elkes, an economist at Loyola University Maryland, headed a team that developed a daylong experience for faculty, staff and administrators from all divisions of her institution, focused on re-discovering the crucial roles of conversation, empathy, reflection and wonder in Catholic higher education. Participants enjoyed an in-depth exploration and discussion of curated articles and chapters by Sherry Turkle, Fr. Greg Boyle SJ, Fr. James Martin SJ, and Br. Guy Consolmagno SJ in a reader developed especially for this experience. Another highlight was a guided campus walk that drew upon all five senses. While personal re-invigoration at the end of a draining academic year was a pleasant surprise for attendees, they also took pride in using what they learned that day to design a senior capstone seminar to help students navigate an attention-starved environment to find God in all things for themselves. This Catalyst project will surely bear fruit in the ongoing professional development provided for all community members invested in Ignatian pedagogy and citizenship. Microsoft Teams was a useful tool in preparing participants in the weeks leading up to the day of retreat.
Congratulations to all Catalyst Grant recipients for their good work in extending the influence of Collegium on their home and partner campuses, and for sharing highlights that will surely inspire other efforts in the Collegium network and beyond.